Boone's Smith Sinks Evans At The Buzzer
Dec 15, 2016
By: Herb Thomas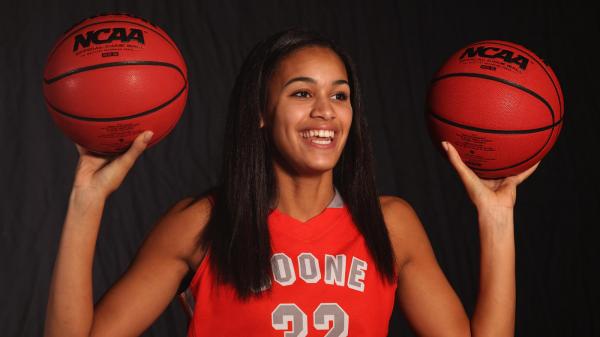 Boone and Evans went back and forth in the first quarter of action Boone's rising junior Brittney Smith had 7pts in the quarter and lead 13-11.
Second quarter Boone started to take control of the game outscoring them 11-5 for a 24-17 halftime lead.
Third quarter was back and forth with both teams scoring 15 in the quarter, despite Smith picking up her fourth foul, Boone up 39-32.
Fourth quarter Evans rising sophomore D'Mya Wilson and rising junior Staci Miller were on a mission trying to bring the lady trojans back, kept attacking the basket getting fouled, they were 12-18 shooting free throws in the quarter outscoring the lady braves 16-11 and briefly took the lead.
With 20 seconds left, game tied at 48, Evans Staci Miller had the ball drove to the basket misses a floater, they get the offensive rebound, shot again which gets blocked by Smith, Boone gets out on a break, misses a layup and
Smith
grabs her 15th rebound and scores as time runs out on the Trojans for a 50-48 victory.
The Buzz
After coming off one of the worst performances of the season fouling out only playing 7 minutes and scoring 3 points in her previous game, Smith stepped up big time despite being in foul trouble again, but came up huge in the fourth quarter with 9 of her game high 22 points including the game winning put back layup with two seconds left in the game for a 50-48 victory over Evans.
Boone Smith 22pts 15rebs 5blks
Evans D'Mya Wilson 13pts, Staci Miller 11pts

To Top

Email

Printer Friendly

Save to My FloridaProspects.com