Brumbaugh Leads the Bulldogs to Victory
Mar 27, 2004
By: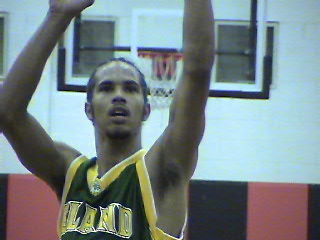 In front of a crowd of about 1100 fans, the Deland Bulldogs moved one step further to Lakeland after a hard fought 70-54 victory over Orlando Evans Trojans.

The game featured two of the best teams out of the Central Florida area.

Orlando Evans came into the game with a plan of limiting Brumbaugh's touches. The plan for the most part worked as the Trojans held him to 11 points through 3 quarters and had taken him out of the game.

Evans was led behind the play of Brandon Siler, who finished with 15 points kept the game close throughout leading at halftime 31-29 and had the score tied going into the 4th quarter at 40-40.

That's when Bulldogs forward Keith Brumbaugh took over the game and showed why he is considered one of the best juniors in the nation. Brumbaugh scored 14 of his 25 points in the quarter and added 2 assists in the quarter as Deland broke ran away with the 16 point victory.

The key point in the game came with 5:30 minutes left and with Deland leading 44-42. During a 45 second span, Brumbaugh rebounded an Evans missed shot and hit a quick 3 pointer. On Evans ensuing possession, Brumbaugh stole the ball and hit another 3 point shot pushing the lead out to 50-44. From there, the Bulldogs coasted to the 16 point victory.

At the end of the game, the students began to chant "we want Edgewater". After tonight's victory and with Edgewater's 82-68 victory over Spruce Creek, the Bulldogs will have Edgewater.

To Top

Email

Printer Friendly

Save to My FloridaProspects.com