Fear The Bull
Sep 8, 2010
By: Antonio Jacobs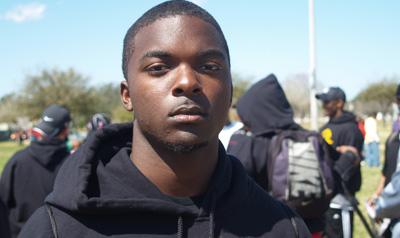 This is a premium story that you are reading for free. Join Florida Prospects today and see why we are the best source for high school sports.

Last Summer Florida Prospects attended a 7 on 7 tournament at The University of South Florida. We attended this event with the Primary purpose of getting an up close and personal view of 5-star Players Teddy Bridgewater, James Wilder II, and Hasean Clinton-Dix. While we were unable to see Wilder and Clinton-Dix we were able to watch Bridgewater who coming into that day we were unsure whether or not was a Division 1 Caliber QB recruit. Teddy answered all of our questions about his Quarterbacking abilities once and for all on that day by making accurate throws into tight windows, displaying good arm strength, and sound decision making seemingly always finding the open man. We couldnít help but notice however that one of his receivers was ALWAYS open. That player was first team All Florida Prospects Miami Northwestern Wide Receiver Eli Rogers.

Rogers stole the spotlight at this 7 on 7 tournament and would continue to do so all summer as his team(The South Florida Express) progressed through and ultimately won The Badger Sport Elite 7 on 7 National Tournament. Over the course of this tournament we saw Rogers line up against in and out of state elite defensive backs none of whom where able to effectively cover Rogers. It was his performances at these camps that has elevated his profile and changed many peopleís perceptions of Eli. Who was already seen as a good wide receiver going into the summer by most but now comes out of it being viewed as a prospect that has the potential to be special at this level and the next.

While Eli does not have prototypical size for a Division 1 Wide Receiver he embodies essentially everything else you could want out of the position. His biggest attributes may be his quickness and understanding of what is required to get open. Rogers is an exceptional route runner and reads coverage well for a player his age. These characteristics are frequently over looked in evaluations of young receivers but prove to be essential to a player being able to receive playing time and play well early on in their college careers. However we donít want to sell Eli short he is a hell of an athlete in his own right. He is exceptional with the ball in his hands and has displayed astonishing acceleration when the ball is in the air. Not to mention he and Andre Davis have the best sets of hands in this class.

This prospect is one of the few that seems to improve every time you watch him in person. We are told that Rogers is an extremely hard worker and it shows up in his play. If he continues to improve he will become a nightmare for opposing teamsí secondaryís and defensive coordinators. Rogers has said that his goal is to break several Dade county receiving records some of which are currently held by former Northwestern WR Aldarius Johnson(now a Miami Hurricane), and with his skill set and the steady improving Bridgewater feeding him the ball Rogers may very well hit his mark.

Rogers is currently committed to play for the Miami Hurricanes next year and entered this year as the 51st Player on our top l00 list but look for him to improve upon that ranking if he continues to perform at the level we have seen recently. Rogers is a rising star in this class. Look for him to continue improve and expand his game as the season continues. Which is a scary proposition for opposing defenses.
Also see 2010 Pre-Season Top 100 and All Florida Prospect Preseason Team

To Top

Email

Printer Friendly

Save to My FloridaProspects.com