Reebok Headliner Camp Review
May 9, 2012
By: Robert Sumpter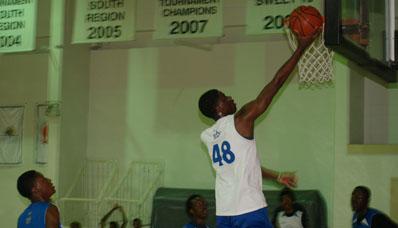 On Sunday May 6, 201 84for32 hoops hosted the Fifth Reebok Headliner Tryouts at Eckerd College in St. Petersburg Florida. The Headliner camp purpose is to have some of the best talent in the state competing for an opportunity to compete against some of the best talent in the nation at Reebok University. Over the past few years, the camp has send players such as Patrick Young, Shane Larkins and Aaron Bowens to the camp and all have moved on to play major college basketball.

The Stars

Every year since the camp has been in Florida, we always seem to have one player who may not be known nationally as of yet but is destined for stardom. This year that player is 6'6 guard Dwayne Bacon of Lakeland McKeel Academy.

Bacon is a superstar in waiting. At his size, he can do it all. Handles the ball like a point guard, goes down into the post and is very explosive off the dribble and to think he is only a ninth grader.

Another player who stood out was 6'11 power forward Fallou Ndoye out of Faith Baptist of Orlando.

Ndoye has great length which makes him very good around the basket offensively and defensively. He has a good face up mid range shot and is very athletic. I would like to see him get a little stronger around the basket but with his length and athleticism, he is definitely a player a watch.

Making a Name

While in the long run football may be his best sport, Braden River High School Trevon Young showed that basketball is not that far behind. At 6'5 he is undersized for power forward, but he uses his strength and will to be a dominate player in the post.

Jacksonville Trinity Christian Academy point guard Isaiah Ford showed that he will be a player to watch the next couple of years. At 6'3 Ford is a lead guard who scores around the basket with ease.

Orlando Dr. Phillips Guard Tyriefe Beard was set for a breakout summer, but after a bout with mono, some wondered how much it would hinder him. After watching him this weekend, he seems back to form. He is a great defender with great athleticism.

Ins and Outs

Dwayne Bacon wasn't the only player from McKeel Academy who made a splash. 6'1 guard Corey Sanders also turned some heads. He's only a freshman, but is a high flyer that can finish above the rim.

Boca Ciega guard Dallas Moore continues to impress this summer. Moore already known for his outside shooting, showed that he is not afraid to attack the basket with a quick first step to blow by defenders.

Jacksonville Bishop Kenny big man Brian Dawkins was one of the biggest surprises at the camp. Although he is undersized at 6'7, Dawkins is a very good rebounder and was able to score in the post with ease.

Miami Booker T. Washington's Ritchie Spiller is a scoring combo guard who can beat you with his jump shot and is fearless going to the basket. Spiller led the camp with the most points.

Players to Watch for

6'7 Forward Roderick Davis is an intriguing prospect. He is undersized as a power forward, but he is an athletic big man who has great length. He showed he can be a mismatch on the court for other potential power forwards with his ability to place the ball on the floor.

St. Petersburg Forward Clare Benjamin is a rising junior who showed a good touch from the outside. He needs to bulk up more to be able to handle the battles in the post.

6'8 Post John Childs looks the part of a player. He runs the floor well and has a good body. Once he develops a better skill set he will be one to watch.

Freshman Forward Anthony Lawrence is an intriguing prospect. He is a coach's son and you can tell his basketball IQ is higher. Is a good shooter and at 6'4 and growing he could develop into a top prospect.

Final Thoughts

What makes the Reebok Headliner camp special is that it gives an opportunity for kids who may not be a household name to compete against the best competition and make a name for themselves. Each year there are a couple of players who use the camp as a spring board for a big season and this year is no different.

To Top

Email

Printer Friendly

Save to My FloridaProspects.com