St Petersburg Devil Advances To Second Straight Final Four
Feb 21, 2016
By: Todd Jenkins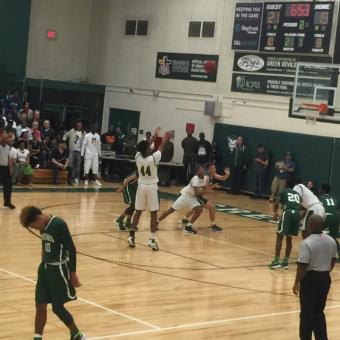 After starting the game off slow, the Devils of St. Petersburg high used a second half surge led by Darius Banks to defeat Lakewood Ranch 83-77 and advance to the final four.
The Lakewood Ranch Mustangs began the game with a good defensive strategy and good offensive play by guards Devin Twenty and Damien Gordon. The Devils struggled to stop the Mustangs resulting in a halftime lead of 39 – 32.
However the Devils went on a series of mini runs started by Serrell Smith, who finished with 24 points. Accompanying Smith was Darius Banks who scored 15 of his 26 points in the second half.

Guard Travis Bianco added another 13 of his 16 points in the second half which included a monster dunk over three defenders . The Devils found a rhythm in the third quarter which propelled them to the 83 -77 win over the Mustangs.

To Top

Email

Printer Friendly

Save to My FloridaProspects.com