Turner Dr Phillips Lady Panthers Run It Back2Back
Feb 26, 2023
By: Herb Thomas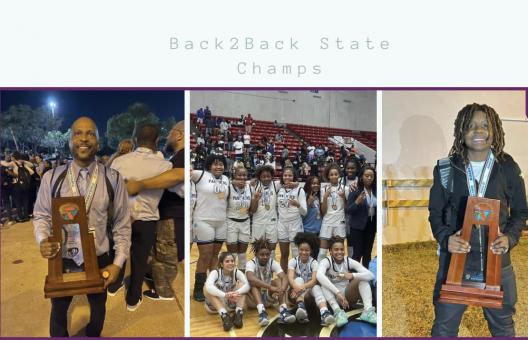 Dr Phillips could've made every excuse possible of why things happened if they lost, from how Trinity Turner started her day, by attending a funeral one of her best friends, or how Coach Jones wasn't there when the game started because he was at his 7 year olds movie premiere but that's not who they are, let me explain...
The first quarter DP jumps out 4-0 then it seemed like forever for them to hit a shot again as Winter Haven scored the next 10 points, ending the the quarter Winter Haven up 10-5.
The second quarter more of the same Dr Phillips couldn't couldn't buy a shot held scoreless for maybe 9 minutes or so, Winter Haven was in full control taking a 19-9 halftime lead.
Second half 3rd quarter the hole seemed to get deeper Dr Phillips was down 25-11 with 5 minutes and some change left in the third quarter, Dr Phillips started showing some life, Sariah Johnson, Turner and others picked it up outscoring Winter Haven 17-14 in the quarter with Winter Haven up 33-26.
Fourth quarter the momentum shifted heavily in Dr Phillips favor they began to hit shots, defense picked up, Elise Horne big free throws, Ronnice Berry hit a huge 3 cut the lead to 3, then Turner hits a 3 to tie the game at 37, then gets a steal and lays the ball up to give Dr Phillips the lead, and free throws by Turner sealed the deal for Dr Phillips how fitting for Trinity Turner who is number #5 to help her Coach Anthony Jones win his #5 state championship, finish the season 30-1.
Dr Phillips: Trinity Turner finished the game 22pts 8reb, 6stls 3ast 2blks, Sariah Johnson 9pts 11rebs, Eloise Horns 9pts 8rebs
Winter Haven: Serenity Hardy 18pts 5rebs




To Top

Email

Printer Friendly

Save to My FloridaProspects.com