4A Lake Highland Prep Wins State Championship
Feb 25, 2015
By: Herb Thomas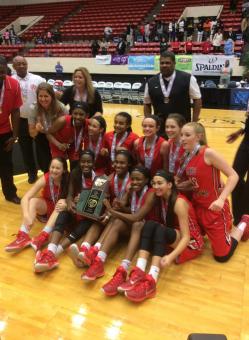 Defending back to back champs Ribault high stepped into the final 4 once again looking to defend there crown but I'm sure they thought it would be a cake walk, but these young ladies from Lake Highland didn't come to Lakeland to lay down for anybody. It was a battle throughout most of the game and the Highlanders put them away in the fourth quarter slamming the door with key freethrows 66-54. (Jr) Jordan Lewis 24pts 5stls, (Sr) Destinee Walker 20pts 7rebs 8th grader Koi Love 16pts 9rebs 2blks and for Ribault Day'Neshia Banks 20pts 7rebs and Rennia Davis 20pts 10rebs.

Then in the championship they would face the only other team who had won a state championship within the past four years in 4A Dunbar who had destroyed there semifinal opponent 61-39 led by (Sr) Keri Jewett 15pts, and 14 a piece from (Sr) Kiara Desamours and sophomore
Dekeriya Patterson
.
In the championship game Dunbar (Sr)
Keri Jewett
22pts 6stls 5rebs jumped out quick Southern Miss commit was playing outta her mind hitting from everywhere, also freshman Ja'Miah Bland who finished with 19pts 17rebs was playing well, Lamar U commit
Kiara Desamours
10pts hit timely baskets as well, but sloppy turnovers and lapses on defense cost the Tigers. Up three points with less than thirty seconds left in the game Patterson turns the ball over and they leave Destinee Walker open for split second one of the best shooters in the country hits a three pointer to tie the game up, Jewett comes down to try to win the game and her shot is blocked by Koi Love who had 7 blocks on this night the eighth grader played huge. In overtime the Highlanders took control and outscore the Tigers 11-5 overtime win 68-62 constant big offensive rebounds from (SO) Rachel Jablonski (5) finished with 10rebs, huge night again
Jordan Lewis
23pts 16rebs,
Destinee Walker
34pts 9rebs.
MVP Destinee Walker Koi Love Destinee Walker Jordan Lewis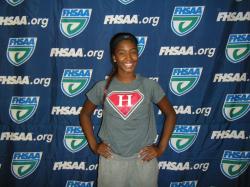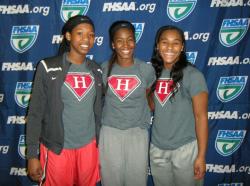 4A All-Tournament (Jr)Jordan Lewis, (8th) Koi Love Lake Highland, (Sr) Keri Jewett, (Sr) Kiara Desamours, (Fr) Ja'Miah Bland Dunbar, (So) Rennia Davis, (So) Day'Neshia Banks Ribault, (Jr) Tytionia Adderly

To Top

Email

Printer Friendly

Save to My FloridaProspects.com