Top AAU Teams Rankings
May 28, 2009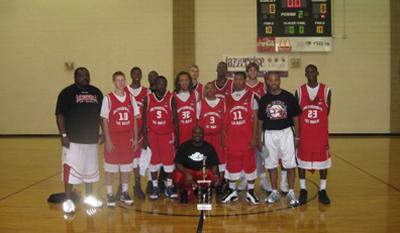 Jacksonville Lee Bulls – The Bulls are enjoying their best season ever as an organization.

They have an elite eight performance at the Real Deal, a runner up performance at the Wallace Prather and just recently won the Silver Division of the Bob Gibbons.

Top Players includes:

Patrick Young (Florida), Stacey Poole Jr., Aaron Bowen (Marquette).
Nike Team Florida – This year's team is filled with talent across the board.

They already have a big tournament win in the Wallace Prather.

Top Players:

Okaro White (Florida State), Dennis Mavin Jr,.
Team Stat – Team Stat arguably has the most talent of any AAU team in the state.

With the state's top rated junior in Austin Rivers and James Bell who is rated number two for the class of 2010.
Florida Elite – Once again Florida Elite is one of the top teams in the state of Florida.

Bolstering players from across the state.

They started the season off with a victory at the Easter Classic.

Top Players:

Jordan Davis, T.J. Hall, David Paulk.
Gold Coast – Gold Coast has quietly been one of the most surprising teams in the state.

They won both the Easter and Spring Classic.

Top Players:

Charles Hankerson Jr. Austin Keel, John Pierre.
Florida Rams – Once again the Florida Rams is one of the elite programs in the state.

Bolstering one of the top rosters in the state.

Top Players:

Khyle Marshall, Cady LaLane, Brian Holmes, Fab Melo.
Team Speights – Team Speights got off to a slow start but has picked it up.

They won the Red Division in the Disney Spring Classic.

Top Players:

Montana Brown, Mike Grinage, Jay Bowie.
Team Breakdown – The defending national champions are in a rebuilding year this year, yet they are still very strong.

Top Players:

Jelani Hewitt, Tony Mitchell (Texas A & M).
SWFL Select – New to the AAU scene, SWFL has been a pleasant surprise to the 2009 year.

Top Players:

Nick Goshay, Clinton Johnson, and Jake Carlton.
South Florida Elite – South Florida Elite has been consistent all season.

They have gone deep into every tournament they have participated in and is expected to get better as the season continues.

Top Players:

Travis Elliot, Cedric Flood-Smith.
Also Receiving votes – Gulf Coast Rams,Florida Future, Florida Prospects

To Top

Email

Printer Friendly

Save to My FloridaProspects.com