Football News
Sep 4, 2019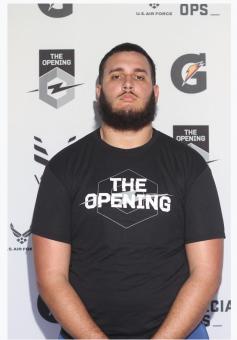 Florida Prospects continues to showcase some of the best talent throughout the state no matter the position or classification. Today we feature Port Orange Spruce Creek senior offensive lineman Sabian Sierra.
1 - 25 of 489 Football Stories. Next Last

May 9, 2019

Last year Jacksonville Terry Parker not only had a new football coach, but also had a new identity. After going 3-10 the previous year, the Braves came into the season with high expectations of turning around the program. Unfortunately, injuries hit the Braves with their starting quarterback going down in the 2nd quarter of the first game of the year. Year 2 of Parker's resurgence is underway and with do it all player Tyrone Williams, they are certain to be better.

Dec 2, 2015

Clearwater Central Catholic's C J Cotman ready to take on the state.

Nov 30, 2015

Florida Prospects Fifth Annual Thanksgiving Invitational featured some of the best teams in the state. Here is a recap from Jeff Turner

Nov 7, 2015

In what was built as the game of the year in Broward County between two of the top teams in the nation, St Thomas Aquinas capitalize on mistakes and poor special teams to defeat Flanagan 19-14 on senior night.

Oct 30, 2015

There's an old saying it's not how you start but how you finish is what counts.

Aug 29, 2015

After a year and a half of watching football, Tampa Catholic Wide Receiver Nate Craig-Myers finally was able to get back on the field and contribute for his team. In his first game back, Craig-Myers help lead Tampa Catholic to a 45-16 victory over Indian Rocks Christian in the first game of the 2015 football season.

Sep 7, 2013

Built as the battle for the number one team in the nation, Miami Booker T. Washington ranked number one in the USA Today Poll and the ESPN Poll faced Miami Central High School who was ranked number one in Rivals.com and Prep Poll in many eyes was seen as the game of the year.

Aug 7, 2013

The First Coast Buccaneers have had their share of athletes to come through there program. No matter the classification someone is always ready to step in the lime light and play a major role for the school rich with division one prospects.

Jul 29, 2013

After a long 2012 season of having to watch football from the sidelines Jacksonville Ribault rising senior DJ Gillins is poised for his senior campaign with a new team and repaired ACL.

Jan 10, 2012

The Florida Prospects staff would like to extend its warmest welcome to you and thank you for attending our Seventh Annual Florida Prospects Boys Basketball Martin Luther King Jr. Classic at Orlando Jones High School.

Jun 1, 2011

May 25, 2011

May 24, 2011

May 24, 2011

May 20, 2011

May 20, 2011

May 19, 2011

May 19, 2011

May 9, 2011

May 6, 2011

May 5, 2011

May 3, 2011

Apr 7, 2011

The 2011 Florida Football class is shaping up to be one of the best classes throughout the nation. The class bolsters several players who will be highly ranked nationally with potentially the top player in the nation. Today Florida Prospects releases our Pre-Season Boys Top 100 for the class of 2012.

Apr 6, 2011

As Florida Prospects prepares to release its initial lists of 5 star football players for the class of 2012 we first wanted to share our grading process with you. Our grading scale is a combination of scores in 5 categories which are: Athleticism, Field Presence, Potential, Stature, and Technique. Here is a synopsis for what we look for in each category and a description of how we score the athletes as well as our general grading scale.