Central Florida Lineman Out to Prove he Belongs With the Best
Sep 4, 2019
By: Robert Sumpter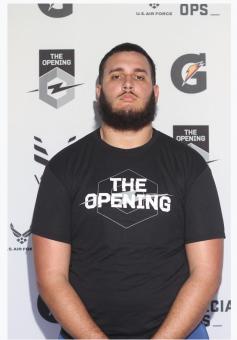 Florida Prospects continues to showcase some of the best talent throughout the state no matter the position or classification. Today we feature Port Orange Spruce Creek senior offensive lineman
Sabian Sierra.
At 6'2 270lbs, Sabian is a three-year starter at offensive tackle. He has all the intangibles that you look for in a player. He is a relentless worker in the trenches where he uses his aggression and footwork to help plow holes for his star running back in the backfield.
Yes sir, my aggression is definitely the best part of my game. As a lineman you don't really get notice until you finish a block and really destroy the opponent. Sierra said. I think that my footwork allows me to get to my blocks quickly and puts me in a position to finish plays.
After spending his first three years at Deltona High School, Sierra transferred to Spruce Creek for his senior year in hopes in better developing him as a player.
"Going to Spruce Creek I knew I would get a better chance of getting seen. I am blocking for one of the best running backs in the state and the team is very good. I also like the way they develop you in the weight room. My goal for this year was to get much stronger and Spruce Creek is known for there weightlifting. I actually can tell the difference now in my play.
As for colleges, Sierra doesn't' states any offers but is have been getting looks from several schools. He lists Bethune Cookman, Coastal Carolina and Jacksonville University as some of the schools that has taken interest in him.
"I view myself almost like my favorite player Michael Oher. No one really knew him and he blew up with his play on the field. I feel that I can have the same effect once given the opportunity.
Whatever school Sierra chooses, he will not have any problems qualifying. Sporting a 3.5 G.P.A, Sierra has always put education first.
"I always wanted to go to college and my parents push me to work hard both on and off the field. It was always installed in me that without academics I am not going anywhere. " Sierra said
So far, Sierra and Spruce Creek are off to a perfect start in search of a state title. With two huge games coming up later this month in Deland and Flagler Palm Coast, Sierra will have every opportunity to show why he is one of Florida's best unknown talents.
Click Here to see Sabian Sierra in Action


To Top

Email

Printer Friendly

Save to My FloridaProspects.com