News
Sep 4, 2019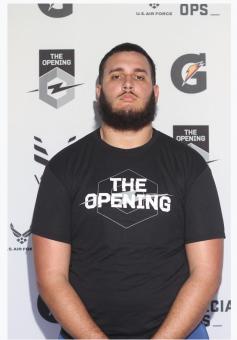 Florida Prospects continues to showcase some of the best talent throughout the state no matter the position or classification. Today we feature Port Orange Spruce Creek senior offensive lineman Sabian Sierra.
1 - 25 of 1027 Stories. Next Last

Jul 8, 2019

This past weekend, Showtime Ballers organization hosted a one day round robin event showcasing some of the top talent in the state.

May 9, 2019

Last year Jacksonville Terry Parker not only had a new football coach, but also had a new identity. After going 3-10 the previous year, the Braves came into the season with high expectations of turning around the program. Unfortunately, injuries hit the Braves with their starting quarterback going down in the 2nd quarter of the first game of the year. Year 2 of Parker's resurgence is underway and with do it all player Tyrone Williams, they are certain to be better.

Apr 6, 2019


Dec 22, 2018

Dec 18, 2018


Dec 18, 2018


Oct 25, 2018


Mar 5, 2018


Dec 28, 2017


Dec 23, 2017


Dec 21, 2017

Basketball

Dec 20, 2017

The Florida Prospects' and RMF Mag staff would like to extend its warmest welcome to you and thank you for attending our Respect Series Winter Showdown held December 28-30 2017 in beautiful Central Florida.

Sep 30, 2017


Jun 15, 2017

Florida Young Stars Inc is proud to present our annual Young Stars middle school exposure camp Sunday July 9, 2017.

Mar 27, 2017

Florida Prospects and RMF Magazine Presents Our First Annual Respect Series Winter Showdown Basketball Tournament

Mar 3, 2017

Florida Prospects is proud to announce it's second Annual Central Florida Senior All Star games held Saturday March 4, 2017 at Wekiva High School.

Mar 1, 2017


Feb 24, 2017

Basketball

Feb 19, 2017

Basketball

Feb 18, 2017


Feb 15, 2017


Feb 10, 2017

After winning 8 out of their past 9 games, the Wekiva Mustangs came into the Regional quarterfinal confident that they could continue their great play against Orlando Boone.

Jan 13, 2017


Jan 6, 2017

Hard to believe it's been ten years since the state of Florida lost one of its rising stars. Florida Prospects Dante Anderson Invitational continues to honor his legacy on and off the court