Turner Powers Dr Phillips Over Lake Highland Prep
Jan 19, 2023
By: Herb Thomas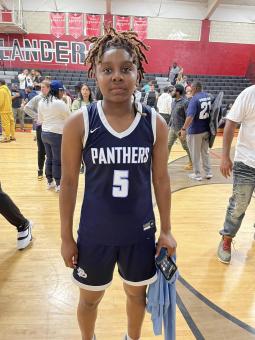 Early stages of the game seemed to look like DP was in for a long night as Lake Highland jumped out to a 28-18 lead to end the first quarter, with Lexi Blue leading the way for the Highlanders with 10pts, junior Jada Eads had 8pts and Turner with 9 for the Panthers.
As the second quarter began Turner (9pts) and the lady panthers jumped out on a 14-0 run, to take a 32-28 lead also 2 big buckets came from sophomore post Elise Horne, a timely 3 from sophomore Anilys Rolon and 5pts from Sophomore Sariah Johnson including a basket to put the panthers us 39-37 at the half, outscoring the highlanders 21-9.
Third quarter more of the same it was Turner with 12pts and cleaning the glass, and Johnson with 6pts as they outscored the highlanders 20-15 in the quarter, 59-52 lead.
Fourth quarter game was still within reach for the highlanders to make a run getting the games within 3 points 64-61, with lots of time remaining but the panthers stayed poised, Turner and the lady panthers refused to let this game go as they pulled away final score 80-64.
Dr Phillips leading scores Trinity Turner 34pts 13rebs 6ast 4stls, Sariah Johnson 17pts, Kendall Perry 11pts
Lake Highland Prep Jada Eads 20pts, Lexi Blue 16pts

To Top

Email

Printer Friendly

Save to My FloridaProspects.com