Montverde Rolls
Dec 18, 2021
By: Todd Jenkins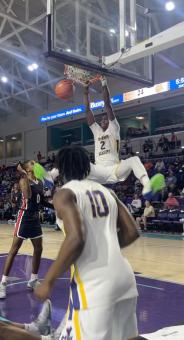 Montverde Academy Rolls
The Montverde Eagles- FL took on the Berkmar Patriots- GA in the City of Palms Tourney. Both teams started strong, although Berkmars 6 10 big man, Malique Erwin, got three quick fouls and had to sit down early in the First Qtr. Montverde took a convincing lead in the first, finishing the Qtr. with a score of 21 6. Early in the Second Qtr. the Eagles pulled several of their starters and finished the half leading Berkmar 43–20.
With Berkmars Erwin back in the game to start the second half, the Patriots offense picked up, however it wasn't enough to slow down the Eagles. Montverde won the game by 25 points with a final score of 76-51.
Leading all scorers was Montverdes Dariq Whitehead and Jalen Hood Schifino with 16 points each and Berkmars Jerahri Hill who also had 16. Also contributing was Montverde's Malik Reneau with 14 points and Berkmars Malique Erwin with 12 points.
Montverde will face Orlando Christian Prep Monday evening at 7pm in the City of Palms Tournament.

To Top

Email

Printer Friendly

Save to My FloridaProspects.com