North Little Rock Survives
Dec 18, 2021
By: Todd Jenkins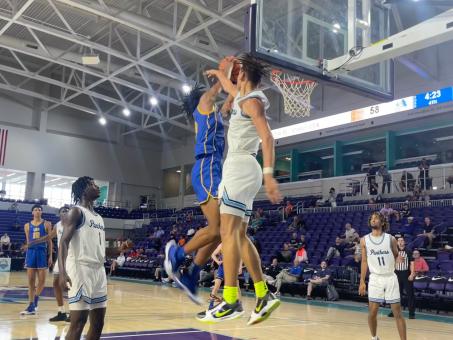 North Little Rock Survives Near Upset In City of Palms Tournament
The North Little Rock Wildcats of Arkansas ranked 10 by MaxPreps survives a potential upset by the Dr. Phillips Panthers of Florida ranked #28 by Max Preps in the prestigious City of Palms Christmas Tournament in Fort Myers FL. The game set the stage for the match up of ranked centers Kelel Ware, ranked 17 by Rivals committed to Oregon and Earnest Udeh Jr. ranked 29 by Rivals committed to Kansas.
Dr. Phillips came out aggressive taking a 25 19 lead by the end of the first Qtr. The Panther's continued to push in the 2 Qtr going on a 10-point scoring run late in the second to end the half on top with a score of 39 to 27. Dr. Phillips was led by Riley Kugel with 15 points and Denzel Aberdeen with 14 points. North Little Rock was led by the heads up play by Corey Washington who had 7 points at the half and ranked guard Nick Smith 16 Rivals who had 6 points at the half. In the Center match up, Ware and Udeh proved to be equally matched, with Ware ending the half with 5 points and 6 rebounds and Udeh with 6 points and 3 rebounds.
Little Rock stepped up their defense coming out of the half and went on a 7 point scoring run late in the third to cut the Panther's led to 1 point. Corey Washington continued to get to the rim while Ty Fredrick hit some timely 3 pointers.
The 4 Qtr proved to be the most exciting, as the match up between the Center's intensified with them going head-to-head on several plays. Little Rock took the lead on the first play of the 4 Qtr and from then on there were several lead changes as Udeh and Ware exchanged a couple of dunks. Corey Washington caught a long outlet for a dunk to regain the lead with 1:42 left on the clock. Dr. Phillips missed a couple of offensive rebounds which the Wildcats capitalized on to extend their lead to 3. However, Riley Kugel responded by getting his own rebound and putting it back to cut the Wildcat's led to 1. Nick Smith with North Little Rock put up a 3 point shot, which a foul was called, sending him to the line for 3 shots. Smith missed all three shots to give Dr. Phillips a chance for a final possession to win the game. The Panthers took a shot and missed and Udeh also missed a final chance putback as time expired. The Little Rock Wildcats held on to win the game with a final score of 63 to 62, dashing the Dr. Phillip Panther's chance to move on in the highly touted City of Palms Tournament and their chance to upset North Little Rock.
Riley Kugel of Dr. Phillips led all scores with 24 points, while top scorer for North Little Rock, Corey Washington, finished with 17 points. North Little Rock other contributors were Kelel Ware with 14 points and 9 rebounds and Nick Smith also with 14 points and 6 rebounds. Dr. Phillips other contributors were Ernest Udeh Jr. with 16 points and 10 rebounds and Denzel Aberdeen with 16 points.
North Little Rock will play the winner of IMG Academy FL and Ballard Ky Monday night at 8:45pm as they advance in the City of Palms Tournament.

To Top

Email

Printer Friendly

Save to My FloridaProspects.com