FAMU High Does It Again Back2Back State Champs 2A
Feb 18, 2016
By: Herb Thomas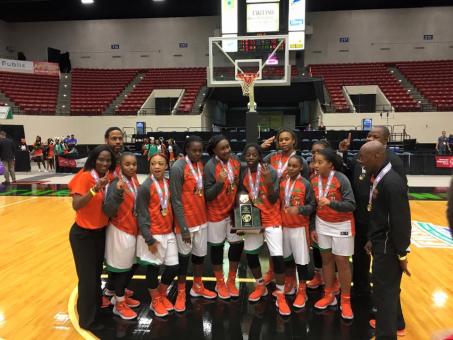 First quarter AATL has two people guarding Jazmine Jones of FAMU High at all times but she still getting it done, scoring, rebounding, steals and blocks 20-6 end of first quarter, Imani Thomas got injured in the first quarter has yet to return.

Second quarter more of the same relentless pressure by FAMU, Ashanti Lamb came off the bench and hit two straight three balls, halftime score FAMU High up 36-16. Jazmine Jones 12pts 6rebs 6stls 2blks Audra Leipold 9pts for Academy At The Lakes.
Third quarter AATL outscores FAMU High 16-12 but still find themselves down 48-32.
Fourth quarter FAMU comes out playing keep away turned into a free throw shooting contest both teams were in the bonus FAMU wins 55-40.
Jazmine Jones MVP 18pts 11rebs 6stls 2blks end her high school career on a brillant note, going to the state final 4 six times winning four state titles of the six, class personified all the way. Jones has left her legacy and we wish her all the best in the future. Louisville is gaining a special young lady.

To Top

Email

Printer Friendly

Save to My FloridaProspects.com