Jones Advances Over Lake Highland Prep In Regional Semifinal Thriller
Feb 15, 2017
By: Herb Thomas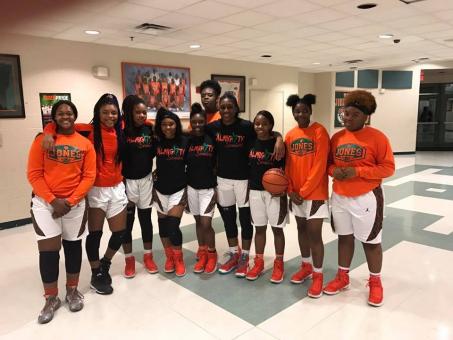 The fact that has these two district rivals paired up against each other in the regional semifinal 5 of the past 6 years never disappoints always a classic battle between these two almost wish the state would send them in opposite directions so they could meet in Lakeland since they seemed to be the two most competitive teams in the class the past few years, but with new teams in the class we will see how it plays out in the end this year.
First quarter Jones jumped out to an early lead 10-4 end of one Chardell Jones had 6 in the quarter.
Second quarter Lake Highland woke up outscoring Jones 15-10, more importantly Tyra Cox was starting to wake up after going scoreless in the first quarter she had 7pts in the second as Jones held on to a 20-19 halftime lead.
Third quarter Jones defense continued to frustrate the highlanders using there length to force Lake Highland into taking difficult shots outscoring them 18-10 in the quarter, and had an 11 point lead, and Myla Hill picked up a tech as well. Highlands, Cox had 8 and seemed to be the only threat, Jamiya Turner had 7 in the quarter.
Fourth quarter Lake Highland down 38-29, suddenly had life senior and Rollins commit Rachel Jablonski knocks down a couple big threes, Jiselle Havas gets a bucket and the foul, Lake quickly erased the deficit and actually for a brief moment took the lead, Highlanders Cox was a warrior trying to win it for them got back2back and one plays tying the game, Chardell Jones was relentless on the boards grabbing 12, along with her 19pts. Play of the game was from Jaiyanna Thomas (8pts) game was tied Jones makes a layup the go up and Thomas seals the deal with two huge free throws, she is there best free throw shooter shooting 74% on the season.
Jones wins 52-49.
The buzz
Another classic, couldn't have asked for a better game, Jones advances to face McKeel Academy, February 17 in the Regional Championship Game, winner goes to the Final 4 in Lakeland.
Jones: Chardell Jones 19pts 12 rebs 6ast, Jamiya Turner 12pts, Jaiyanna Thomas 8pts
Lake Highland: Tyra Cox 22pts, Zanoria Cruz 10pts

To Top

Email

Printer Friendly

Save to My FloridaProspects.com