6th Annual Girls Basketball Thanksgiving Invitational
Nov 4, 2016
By: Herb Thomas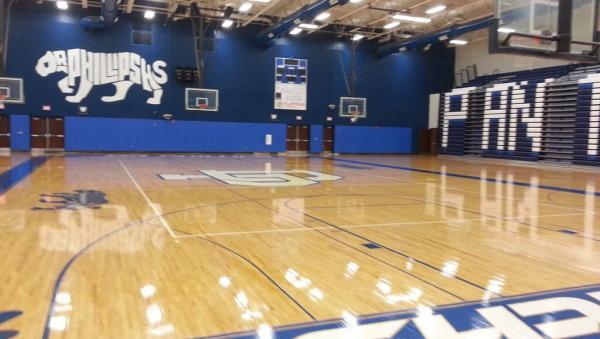 Florida Prospects would like to extend an invitation to our Sixth Annual Girls Basketball Thanksgiving Invitational at Dr Phillips High School, 6500 Turkey Lake Rd, Orlando Fl, 32819 November 25-26 2016
The event is designed to give teams opportunity to showcase there talent to college coaches and the community. Also to bring exposure to Central Florida's top high school programs, by pairing some of the best talent in the state. This year will be no different you will see some of the best teams and talent the state has to offer.
Teams include 8 state final four teams from a year ago, four of them won state championships, Jacksonville Ribault (2016 State Champs & 2016 National Champions), Miami Country Day (3X State Champs & 2015 National Champs) Lake Highland Prep (Back2Back State Champs) Winter Haven (State Champs), Lakewood Ranch (State Runner-Up), Seffner Christian (State Final 4), South Broward (State Final 4), Edgewater (State Final 4), other teams include, Jones, Wekiva, Tampa Catholic, West Port, Montverde, Ocoee, Colonial, Winter Park, Dr Phillips, Lake Minneola
Florida Prospects girls basketball will host two major events this year Thanksgiving and a 48 team Christmas Invitational, showcasing our ladies basketball talent to college coaches and the nation.
With the teams involved in the event, we feel confident that this will be an event that you will enjoy. Any questions please contact Robert Sumpter (321-439-7759), Herb Thomas (407-340-8107) & Tommie Butts (754-264-3153), you can also visit the website floridaprospects.com.
Attached is a bracket schedule for the games and a list of some of the top talent that will be on tournament.
***All Games will be played at Dr Phillips***
Friday 11/25/16
Game #1 Winter Park vs West Port 9:00 AM
Game #2 Edgewater (Orlando) vs Lake Minneola 10:30 AM
Game #3 Ocoee vs Tampa Catholic 12:00 PM
Game #4 Colonial (Orlando) vs Lakewood Ranch 1:30 PM
Game #5 Lake Highland vs Seffner Christian 3:00 PM
Game #6 Wekiva vs South Broward (Hollywood) 4:30 PM
Game #7 Miami Country Day vs Jacksonville Ribault 6:00 PM
Game #8 Winter Haven vs Jones (Orlando) 7:30 PM
Saturday 11/26/16
Game #1 West Port (Ocala) vs Edgewater (Orlando) 9:00 AM
Game # 2 Seffner Christian vs Dr Phillips (Orlando) 10:30 AM
Game # 3 South Broward (Hollywood) vs Ocoee 12:00 PM
Game # 4 Lakewood Ranch vs Winter Park 1:30 PM
Game #5 Tampa Catholic vs Colonial (Orlando) 3:00 PM
Game #6 Montverde Academy vs Winter Haven 4:30 PM
Game #7 Jones (Orlando) vs Miami Country Day 6:00 PM
Game #8 Jacksonville Ribault vs Lake Highland Prep 7:30 PM
Notable Players
2017
Colonial Angelica Delgado (5'4)
Colonial Angelica Flores (5'3) G
Dr Phillips Tiffany Tolbert (UNF Commit)
Jones Jaiyanna Thomas (5'9) F
Jones Monique Schuman (5'11) F
Lake Highland Prep Tyra Cox (5'8) G
Lake Highland Prep Rachel Jablonski (Rollins)
Lake Minneola Joseline Ramos (5'5) G
Lakewood Ranch LaDazhia Williams (South Carolina)
Lakewood Ranch Aleah Robinson (5'9)
Lakewood Ranch Shauntavia Green (5'7) G
Miami Country Day Channise Lewis (Illinois)
Miami Country Day Kelsey Marshall (Miami)
Miami Country Day Dashaun Jackson (6'0) G
Ocoee Ariel Colon (Elon)
Ocoee Dynasty Carter (Southern)
Jacksonville Ribault Rennia Davis (6'1) (Tennessee)
Jacksonville Ribault DayNeshia Banks (5'10) (Ole Miss)
Seffner Christian Avree Carpenter (Union University)
Seffner Christian Chelsie Hall (Vanderbilt)
Seffner Christian Hope Hunter (6'0) W
South Broward Chante Walker (5'11) F
South Broward Mackenzie Sadaka (5'11) G
South Broward Natalia Leaks (5'7) G
Tampa Catholic Alise Davis (6'1) F (Coastal Carolina)
Tampa Catholic Mia Blocker (5'7) G
West Port Jalaysha Thomas (U of Florida)
West Port Tameria Johnson (U of Florida)
Wekiva Tyra Graham (5'8) G
Winter Haven Melody Brewington (Southern)
Winter Haven Sharajah Collins (Gulf Coast State)
Winter Haven Tatiana Thompson (Georgetown)
Winter Park Veronica Cancio (5'6) G
Winter Park Lexi Siler (5'10) F
2018 Underclassmen Watchlist
Colonial Kharis Idom (5'8) G
Edgewater Emari Bell (6'1) F
Jacksonville Ribault Shania Edgecomb (6'2) F
Jones Chardell Jones (5'8) F

Lake Highland Jiselle Havas (5'10) G
Miami Country Day Aasiya Berry (6'2) F
Seffner Christian Audra Leipold (5'7) G
Tampa Catholic Ashley Sieper (6'2) F
Wekiva E'toni Holloway (G)
Winter Haven Diamond Battles (5'9) G
Winter Haven Tyia Singleton (6'2) F
Winter Park Alexis Barlow (G)
2019
Jones Jamiya Turner (5'8) G
Lake Highland Prep Kennedi Rodgers (6'0) W
Montverde Academy Koi Love (6'0) F
Miami Country Day Maria Alvarez (5'7) G
Seffner Christian Brylee Bartram (5'8) G
Wekiva Alexis Choice (5'9) W
Winter Haven Zakiyah Franklin (5'7) G
2020
Wekiva Emerielle James (5'8) G
Wekiva Brierra Williams (G)
Wekiva Myanna Garrett (G)
Lake Highland Zanoria Cruz (5'10) F

To Top

Email

Printer Friendly

Save to My FloridaProspects.com