Florida Prospects 2014 Girls Top 50 Pre-Season Rankings
Aug 10, 2013
By: Herb Thomas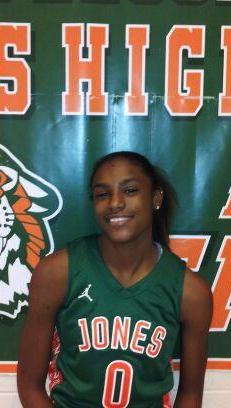 Top Of The Crop
We start off with the #1 overall player in the state
Dominique Simpson
, who was an unknown coming into Jones as a freshman has made herself a household name, Simpson is a leader, a silky smooth, electrifying guard who simply just gets it done, whether it's the long three ball, attacking the basket or locking down on defense, a very versatile player & fearless. Simpson came back off tearing her ACL last summer, too back dominating the summer scene, showing why she is one of the top guards in the country. Simpson has verbally committed to West Virginia.
Next we have
Vionise Pierre-Louis
a 6'2 PF who is coming off a great season 22pts 14rebs 6blks at Grandview Prep just looking at these numbers tells you a lot in itself what type of player she is, bottom line she gets it done.
Then we have
Keyanna Harris
(Dwyer HS), another long athletic G/F who knows how to get it done, and is getting coveted by a lot of colleges, also had a great summer season with her club team Miami Suns Fowles closing out the summer winning it all in Las Vegas, Nevada Fila 64.
At four we have
Taryn Griffey
(Dr Phillips) who showed why she was one of the best in Florida, the last couple of years, before tearing her ACL before last season, and made a brief comeback this summer, before getting re-injured last month. Griffey has already verbally committed to Arizona.
To wrap up our five stars we have
Aliyah Gregory
, (Strawberry Crest), another long super athletic wing player, who scores in a variety of ways, she can go over the top of you, put the ball on the floor and go, whatever she needs to do to get to the bucket she will, and great defender. Also had an impressive summer, her stock is high.
Just Short Of The Cut
Nyala Shuler
a two time champion at Edgewater HS, the do it all 5'11 forward, has gotten better every year going out proving why she as well is one of the top players in Florida, the glue to her hoop squad. She does everything well on offense & defense, I will not be surprised to see recent verbal UCF commit, lead the charge again helping her team try to three peat.
Danielle Minott
(Miami Country Day) standout, watched her lead her team last year to the class 3A state championship last season though falling short to Father Lopez, Minott was very impressive, very skilled offensively, inside, outside game, really understands the game, also had a productive summer.
Rolanda Hayes
(Viera HS), this young lady has been one of the best in the state for a couple of years as well, though a bit undersized, Hayes knows how to get buckets, and once she gets rolling it's hard to cool her off, coming off 29pt effort in the playoffs losing to eventual champion Bucholtz I know the FAU commit will have her squad focused on nothing less than getting that state ring.
Making Noise
Kayla Kivinski
(Gulf HS), this young lady is a scoring machine, really picked it up since her freshman year when she averaged five points a game, she picked it up last season averaging 20pts 11rebs per. Kivinski has solid shooting range, a slasher, excellent rebounder, good court awareness and a decent defender she had a solid summer keep an eye on her this season.
Jade Cheek
(Dr Phillips), this 3x state champion continues to impress, she is a sniper when it comes to shooting the ball. Cheek really picked it up this summer and I'm sure it will carry over as she plays her final season. Cheek verbally committed to FIU.
Jazmyne Thompson
(Jones), this young lady really came into her own, this past season, when key injuries plagued her team, she really stepped up played well and it spilled over to the summer, where the 6'1 athletic F/C showcased herself in front of college coaches all summer. Thompson plays center on her high school team, can guard all five positions, she is a defensive specialist, finishes around the basket and has a decent mid-range game, which has her sitting on three college offers right now.
Bernadette Devaney
(Nova), the Lehigh U commit, is a sharp shooter from long distance, mixes it up pretty good on offense solid frame able to absorb contact, excellent free throw shooter, has been to the state final four last two years in a row, lost in the state championship this past season and I'm sure looking for redemption. Devaney had a solid summer, looking forward seeing Nova do big things again this year.
Hidden Gems

Tiffany Hodge
(Lyman HS), 5'10 PF, has been under the radar because her high school program hasn't been very good, but she averaged 11pts and 13.8rebs, tied for sixth in rebounding in the state, I had a chance to catch her on the summer circuit, finishes well around the basket a relentless on the glass, and a better defender than one would think. Hodge should have a great season this year and with a new head coach in place, hopefully they help polish up her game.
Katie Atkins
(Wekiva HS), this young lady has emerged as one of the top three point shooters in the state this past year for then new head coach Tommie Butts, Atkins confidence has grown, had a good summer and ready to pick up where she left off, don't fall asleep on this young lady.
The Close Out
There is plenty of talent in this class guards, wings and even a few bigs gonna be another great year for florida girls basketball.
Wishing the whole 2014 class well as you enter the final season of your high school careers, continue working hard to obtain your goals this season in the classroom and the court.
College scholarships are still out there to be had and are attainable, and for the players who already have committed, keep working hard, don't get complacent, encourage and help someone else.
This is only the 2014 class, so stay tuned it gets better.

To Top

Email

Printer Friendly

Save to My FloridaProspects.com