Fun In The Sun Tournament - Friday Night Results
May 24, 2008
By: Tommie Butts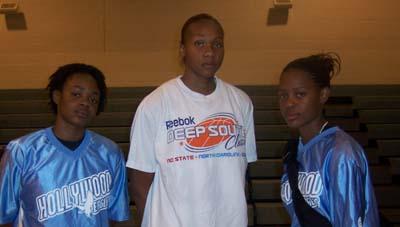 The Hollywood Eagles are led by a trio of scorers.

FRIDAY'S TOURNAMENT RESULTS:

15/u Division

Hollywood Eagles (15/u) 24 Lady Law 20

Lauren McGraw (Dillard H.S.) had a game high with 11 points to lead Hollywood Eagles to a 4-point victory over Lady Law. Ashley Hamm (Dillard H.S.) led Lady Law with 7 points in the defeat.



Broward Bearcats 20 South Fla.

Jags (15/u) 16

The Bearcats were led by Monique Maximillien (N.Broward Prep.) and Veronica French (N.Broward Prep.) with 7 points each. April Carson led the Jags with 8 points in their Pool play opener.



17/u Division

South Fla. Jags (17/u) 42 Team Breakdown 25

Jassany Williams (Nova H.S.) led the Jags with 9 points as South Fla. defeated Team Breakdown in Pool play. Team Breakdown was led by Dawn Maye (Dillard H.S.) with 10 points in the lost.

Hollywood Eagles (17/u) 36 Team Lightning 20

The Eagles had an easy time in their Pool play opener as they defeated Team Lightning. Alicia DeVaughn (South Broward H.S.) led the Eagles with 10 points. Samantha Nudelman (Dr. Krop H.S) led Team Lightning with 10 points.

Friday's Tournament Summary:

The Fun In The Sun Tournament was very competitive with talented teams in opening Pool play games. Lady Law, in the 15/u division, gave Hollywood Eagles all they can handle in the tournament's first game. The Eagles took advantage of Lady Law's turnovers late in the 2nd half. The second game was a duplicate of the 1st game with tough defensive effort from both teams and conservative offensive of play late in the second half also. During the juniors Pool play, both the Jags and Eagles won their games with a decisive margin.

Saturday's games have interesting match-ups and will determine seeding for Sunday's playoff race. With the defending champs, Essence (2009), starting their Pool play opener 9:10am vs. Miramar PAL, the South Fla. Jags (17/u) and Hollywood Eagles are both 1-0 with an one-game edge over Essence (2009).

To Top

Email

Printer Friendly

Save to My FloridaProspects.com