Jackets Hold off Colts
Sep 4, 2010
By: Robert Sumpter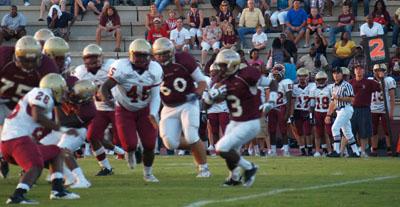 Over the past five years, the St. Augustine North Marion football game has been one of the most exciting games in the state. Last night was the latest edition of the rivalry as the Yellow Jackets held on to defeat the Colts 14-6 in front of a packed house Friday night.

The game featured two teams with plenty of offensive fire power but it was the defenses of both teams that got the headlines.

After the Colts failed to capitalize on an error turnover, the Colts scored on their second possession of the game when junior running back Jamie Gilmore broke loose for a 62 yard touchdown run to put North Marion up 6-0.

From their the Jackets defense took over the game. The Jackets only allowed 21 yards of total offense the rest of the half and hounded the quarterbacks all game. The Jackets finished the game with four sacks with junior Timothy Verdell accounting for two.

St. Augustine finally got on the board after a poor punt set the Jackets up at the Colts 27 yard line. From their the Jackets went three plays scoring on a 16 yard pass from quarterback Kyle West to Jerry Blount. The Jackets took the lead on the extra point by Mark Sturgis 7-6.

The Jackets extended their lead when Blount scored on a 16 yard run in the fourth quarter making the score 14-6.

On the Colts next possession, they took the ball from their 20 and drove down to the Jackets five yard line. On fourth down, Jackets defensive back Kyre Simmons intercepted the pass in the end zone returning it to the five yard line.

"This wasn't our best game but we will learn from this game and get better. We have a younger team this year and we had some lack of communication but we just have to stay together and we will be okay." Jackets senior Markis Merrill said.

The Colts did have a final chance to send the game to overtime after St. Augustine turned the ball over at the one yard line with 3.9 seconds left in the game after a bad snap from center forced Jackets quarterback West to fall on the ball.

The Colts failed to score from the one yard line when junior tight end Sean Price dropped the pass in the end zone.

This game is usually played in the semi-finals of the state championship playoffs and many people believe that this is just a prelude to that match-up which is what many of the Colts were thinking after the game.

"They are a good team and every time we play them its always a good game. If we do what we have to do over the year, we will see them again." North Marion Jamie Gilmore said.

To Top

Email

Printer Friendly

Save to My FloridaProspects.com