Jones Lady Tigers State Champs!
Mar 1, 2017
By: Herb Thomas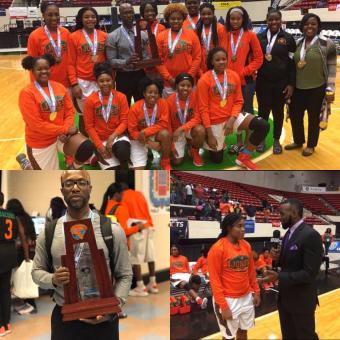 Jones High School had one of the toughest schedules in the state this year to get where they were trying to go, to accomplish the ultimate goal, which is to win a state championship.
To prepare themselves they played, Miami Country Day who is ranked #4 in the country also 4peat state champs, Ribault #23 in the country also back2back state champs, Winter Haven back2back state champs, Northeast, Potter's House, FAMU High 3peat state champs, district rival Lake Highland 3 times, who were also back2back state champions and West Port.
In playing those teams it prepared them for one of the toughest test when they hit the state final 4 semifinal game in which they were down to Oxbridge Academy also one of the top teams in the state, by 14 points heading into the fourth quarter 47-33, what happened next still seemed unreal for lots in attendance, Jones shuts them out for the next 11 minutes, the whole fourth quarter and the first 3 minutes of overtime, yes overtime, tied at 47. Jones wound up winning the game 57-56.
Championship day Jones Lady Tigers were ready they seemed destined after 14 years to bring home there third championship and there last test was vs Florida High. Florida High lead at the end of the first quarter 14-12. The lady tigers responded in the second quarter 19-8 to take a 31-22 lead.
Second half third quarter was slow for both tigers outscored them 7-6 for a 38-29 lead heading into the fourth.
Fourth quarter seem to be a battle of will, Florida High came out blazing, but so did the tigers who were not going to let this game slip away and won 56-44 for their third overall championship, which had been a long 14 year drought.
Jones fourth year Head Coach Robert Moultrie had been through it all, he'd been to state with the tigers as an assistant in 2011-12 season and twice as a Head Coach, first in the 2013-14 season, and this season he got it done, despite all the roadblocks he's endured, because that's not an easy job to have at Jones despite what people may think and with less talent than he's used to having, not to discredit this group at all, especially because this group was the one to get it done.
All the pieces of this teams puzzle just seem to fit with a mix of veterans and youth, junior Chardell Jones MVP, best overall player, sophomore silky smooth Jamiya Turner, senior utility player and big time defender Jaiyanna Thomas, also sharpshooting of Shania Jacobs was huge in the state semifinal comeback game 5-7 three pointers, rebounder senior Monique Schuman, also senior defender Meoshia Peterson and up and coming 6'4 freshman Alanta Partee.
This championship is special and he did not forget the ones who came before these young ladies, some marquee names who helped put the program back on the map, Tifani Kerrison, (Lynn University) Dominique Simpson (WVU), KayKay Wright (UCF), and a few others he said this was for all of them, no one is forgotten.

To Top

Email

Printer Friendly

Save to My FloridaProspects.com