Miami Country Day 3Peat Complete
Feb 19, 2016
By: Herb Thomas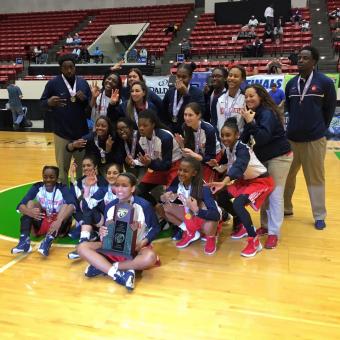 First quarter Miami Country Day jumps out the gate in there quest to three peat led by Kelsey Marshall 10pts in the first quarter 19-11 end of one over University Christian.

Second quarter more of the same Country Day relentless on both ends of the floor, University Christian's Tarje Norman is battling hard with 9pts and Jada Hudson with 8pts, (University of Southern Cal) commit Ja'Tavia Tapley has been relatively quiet only has three points in the first half also Glenisha Harkless hasn't scored, Freshman sharp shooter Maria Alvarez has heated up leading MCD in scoring with 11pts knocking down three trey balls in the half, 39-20 halftime score.
Third quarter Country Day just continues to pour it on showing there dominance outscoring UC 19-6 in the quarter.
Fourth quarter Miami Country closes out the game winning there third state championship in a row. Junior Kelsey Marshall was named MVP led MCD with 20pts 7rebs, freshman Maria Alvarez finished with 17pts.
Congrats again to Miami Country Day on another great season.




To Top

Email

Printer Friendly

Save to My FloridaProspects.com