Montverde Academy Over IMG Academy
Dec 21, 2016
By: Todd Jenkins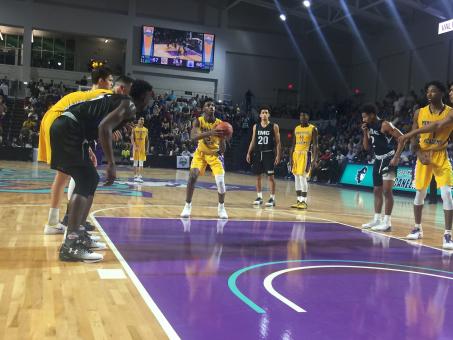 Montverde Academy edged out IMG Academy in a hard fought game of Nationally ranked teams.
Montverde was led by super sophomore RJ Barrett who scored 30 points. Barrett had a relentless attitude about scoring looking as though he couldn't be stopped, but IMG played strong with a don't give up attitude led by Emmitt Williams who had 22 points and Trevon Duval who had 10 points.
Montverde withstood the IMG runs through out the game every time. IMG's Emmitt Williams played played above the rim with some amazing dunks that wowed the crowd and Trevon Duval ball handling amazed the crowd.
With the game go within reach for IMG Trevon Duval fouled out with 2 minutes and 36 seconds remaining in the game, and without his ball handling IMG couldn't get over that hump to pull head.
Montverde prevailed with the victory 70-60 to go to the City Of Palms Championship where the will face Memphis East who is coached by Penny Hardaway and IMG will face The Patrick School out of New Jersey in the 3rd place game..

To Top

Email

Printer Friendly

Save to My FloridaProspects.com