Mustangs Advance to Regional Semifinals
Feb 10, 2017
By: Robert Sumpter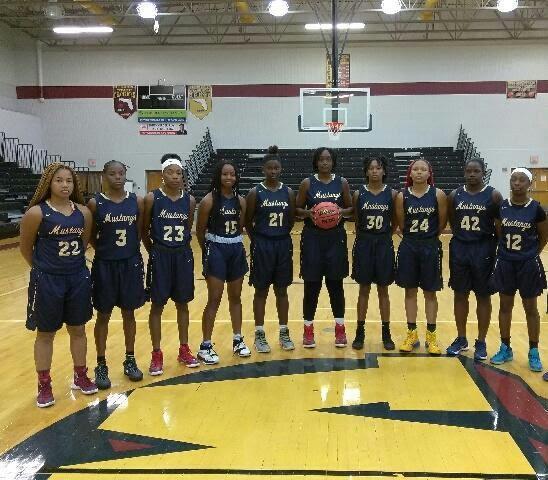 After winning 8 out of their past 9 games, the Wekiva Mustangs came into the Regional quarterfinal confident that they could continue their great play against Orlando Boone. While the game didn't exactly start off positive for the Mustangs being down 9-2 in the first quarter, they were able to rally and pull away defeating Orlando Boone 58-43 to advance to the Regional Semifinals.
"When we got down early, I told my girls to just stay with the game plan. I told them that the game wasn't going to be won in the first half. After we settled down, we were able to speed up the game and play Wekiva basketball." Coach Tommie Butts said.
After being down 9-2 in the first quarter, Wekiva went on a 9-2 run to tie the game with freshman guard Brierra Williams scoring a layup at the buzzer.
The second quarter, Wekiva started to speed the game up and create turnovers. Led by Freshman Guard Emmy James, who had 8 of her game high 17 points and three assists in the quarter, Wekivia took a halftime lead of 28-23 into the locker room.
Boone, started the third quarter just like they started the first quarter as they went on a 6-0 run to take the lead 29-28.
With just over seven minutes left in the third quarter, junior post Brittney Smith picked up her third foul and had to sit.
With Smith on the bench, Wekiva turned up their press and was able to capitalize on 11 turnovers in the third quarter alone as they went on a 20-2 run culmalating with a three pointer by Tehya Perry to break the game open 48-31 at the end of the third quarter.
Wekiva improves to 21-7 and will have a rematch with West Orange in the Regional Semifinals.
Wekiva and West Orange will now face off for the fourth time this year in the Regional SemiFinals with nine points separating the two teams in there three matchups.
Emma James 17, E'toni Holloway 14, Brierra Williams 11
Angeni Worley 14 Brittney Smith 10

To Top

Email

Printer Friendly

Save to My FloridaProspects.com