Reebok Open Camp Review
Jun 7, 2013
By: Robert Sumpter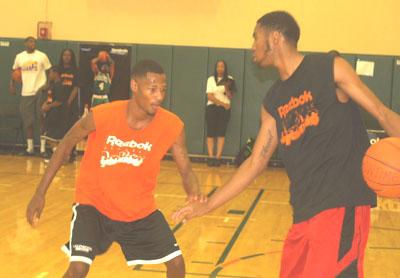 On Sunday June 1, 2013 Showtime Ballers hosted the Reebok Open Run Orlando Florida. The Event purpose is to have some of the best talent in the state competing for an opportunity to compete against some of the best talent in the nation at Reebok University. Over the past few years, the camp has send players such as Patrick Young, Shane Larkins and Aaron Bowens to the camp and all have moved on to play major college basketball.

The Stars

This year event featured several of the top 10 players in the state of Florida for the 2015 class.

The biggest name at the event was Dwayne Bacon of McKeel Academy. Bacon is a superstar in waiting. At his size, he can do it all. Handles the ball like a point guard, goes down into the post and is very explosive off the dribble.

Corey Sanders of George Jenkins high school continues to showcase his explosiveness and athleticm. He competes at a high level and is a highlight waiting to happen.

2014 Guard Jacobi Boykins of St. Petersburg Lakewood High School continues to have a breakout summer. Boykins has a slight frame but he gets to the basket at ease. With his added improvement to his jump shot, look for Boykins to garner many interests from colleges over the summer.

2015 Guard Jonathan Laurent of Orlando Freedom high school was another surprise attendee. Laurent continues to impress every time we see him. He is one of the best players in the state in attacking the basket and his jump shot has vastly improved.

Making a Name

One player who really stood out at the camp was 2015 Guard Dayon Griffin of St. Petersburg. Offensively, Griffin had an up and down camp showing flashes with his jump shot and ability to get to the rim. What separated Griffin was his play on defense. Griffin virtually shut down whomever he guarded and had four or five Lebron James blocks on lay ups attempts.

Another player who caught our attention is 2015 combo guard Kyle Clarke of Spruce Creek High School. Clarke showcased his ability to run the point throughout the camp and showed that he can score with the best of them. He has a good first step and was able to get to the basket at ease. In his game against top 2015 prospect Dwayne Bacon, Clarke not only held his own but most felt he outplayed him.

Orlando Dr. Phillips Forward Justin Tucker is a joy to watch. He has a non stop motor from the tip. He runs the floor well and isn't afraid to finish in traffic.

Players to Watch for

6'10 Center Wyatt Sikora is an intriguing prospect. He was the only true big man at the camp. He has a good developing post game and he showed an aggressive side when attacking the basket.

Jacksonville Trinity Christian Academy point guard Isaiah Ford continues to be an interesting prospect. While his main sport maybe football, on the basketball court, he has great size and vision and seems really fluid on the court.

6'8 junior Jacari Newkirk is a long athletic Forward who is very active around the basket. He is a good weak side defender who can occasionally hit the three point shot.

Pompano Blanche Ely Guard Richard Lee also had a good camp. Lee has always been known for his shooting ability but showcased his willingness to drive to the basket as well as knock down open shots.

Ins and Outs

If the camp is any indication, then Spruce Creek High School will be a team to watch in the near future. Not only did they have Kyle Clark but also have 2016 forward Keyshawn Johnson, and Neko Green.

2014 prospect Brandon Jones has recently transferred to Largo High School where he states he will be playing his natural position of small forward.

Twin Big men Admir and Armin Radoncic of Jacksonville Mandarin both showed promised at the camp. Standing at 6'9 the twins have good size and showed good post moves around the basket.

Charles Maloney of Boca Raton had a great day at the camp. At 6'6 he gets to the basket at ease and finishes with both hands. He also showed that he has been working on improving his long range shot.

Final Thoughts

What makes the Reebok Open Run camp special is that it gives an opportunity for kids who may not be a household name to compete against the best competition and make a name for themselves. Each year there is a couple of players who use the camp as a spring board for a big season and this year is no different.

To Top

Email

Printer Friendly

Save to My FloridaProspects.com