Ribault Leaves No Doubt Who's #1 5A State Champs
Feb 20, 2016
By: Herb Thomas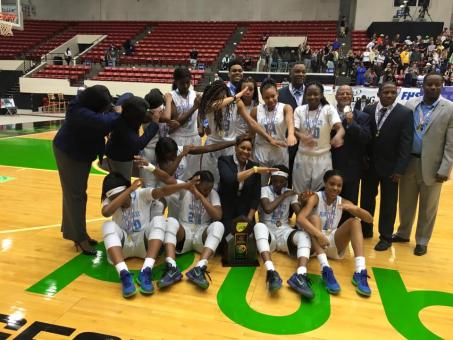 First quarter Bishop Moore hot from deep early up 15-8 end of 1.

Second quarter Ribault turned it up outscoring Bishop Moore 20-7, pounding the ball inside to Day'Neshia Banks 17pts at the half, Morgan Davis had 10pts 7rebs at the half.
Second half Ribault just dominated in all phases of the game scoring, rebounding, smothering defense outscoring them 32-15 second half points out rebounding 31-13 in the second half, with a convincing 60-37 victory. Day'Nashia Banks 19pts 12rebs and Rennia Davis 20pts 11rebs 4blks 3stls. Bishop Moore Morgan Davis finished with 16pts 11rebs 4stls 2blks.
Ribault another great season leaving no doubt and can plead there case as #1 in the state.

To Top

Email

Printer Friendly

Save to My FloridaProspects.com