Day Two At Reebok Headliner Camp
Jun 3, 2008
By: Robert Sumpter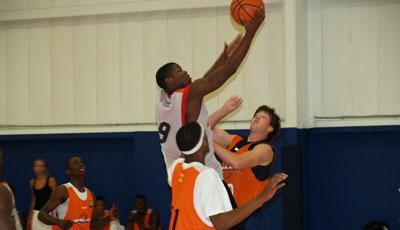 Jacksonville Ė The Reebok Headliner Camp came to an end on Sunday with a great showing from top players throughout the state. Here is our Day Two Analysis.
Star Power
Orlando Olympia Guard Dexter Fields was the best player at the camp and is playing the best ball I have ever seen him play. Fields was unstoppable all camp scoring inside and out.
His improved ball handling was nice to see and when he wasnít scoring, he was setting his teammates up for easy baskets.
If Fields was the best player at the event, then Pensacola Forward Terrance Beasley was the next best. Beasley had a great weekend scoring at will both inside and out and showed an improved mid range game.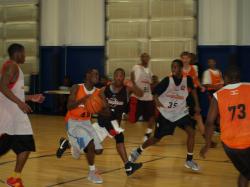 Orlando Christian Prepís Tyshawn Patterson showed that he is not only a great defensive player but he is also a threat on the offensive side of the ball as well. Patterson, who is always playing at a super fast pace, showed control aggression as he blew by defenders all day making plays for himself as well as his teammates.

Ocoee Guard Rodney Blount continued to just wow every evaluator at the event. Blount, who was a relatively unknown before this weekend, created all day for his teammates and displayed excellent touch from the three point line.
Jacksonville Paxonís Patrick Young didnít have as many dunks as he did in day one, but still showed that he was the best big man in the camp. The rising junior owned the paint in every game he was in on the defensive side and displayed a soft touch from 12 feet in.
Itís Raining Threes
The three point shot was on display today with several players showing they had range from deep.
The most impressive shooter of the day was Wekiva High Ian Wilhelm. Ian made nine three pointers on the day and scored a game high 29 points in the marquee game.
The Big Men Played Well
Orlando Timber Creekís Darius Morales had another solid day at the office blocking and altering shots around the basket.
Lake Brantley Trent Stokes didnít have his best offensive game but led the camp with rebounds.
Oviedoís Jason Guerrier showed great touch around the basket and was very aggressive on the boards.
Orlando Olympia forward Jamel Marshall also played well and surprise many people with his range from three point land.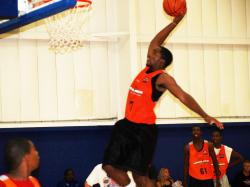 Thomas Hawkins of Miramar played much stronger around the basket on day two.
Altamonte Springs Lake Brantley Trent Stokes showed promised as well. Stokes played consistent on both ends of the court and held his own against some of the top players in the field.
The Kids Can Play
Jacksonville ACD Brandon Boyd continued to be the best player playing in the underclassman division. Boyd was fearless around the basket and displayed decent touch from the outside.
Jacksonville Raines guard Daqwan Knight appears to have added a jump shot to go along with is playmaking ability. In one stretch, Knight hit four three pointers in a row.
2012 prospect Justin Chandler of Jacksonville Ribault, had a consistent camp grabbing rebounds and scoring when given the opportunity.
Pierre Bland is a name to remember. The 2011 prospect out of Jacksonville Lee was a great defender on the perimeter and displayed a good ability to get to the basket.
Terrell Merritt a 2011 prospect out of Montverde had a better showing in day two. He was more aggressive in getting to the basket and didnít force many shots.
Camp Surprises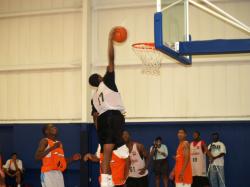 Altamonte Springs Lake Brantley Guard Michael Highsmith gets the honors as surprise of the camp for day two. Highsmith is a combo guard for the 2009 class but was used primarily as a point guard in the camp. He was able to run his team smoothly and scored when needed to.
Top Players of the Camp
The top five players at the camp playing in the upperclassmen division were.
Dexter Fields Orlando Olympia

Terrance Beasley Pensacola

Rodney Blount Ocoee High

Patrick Young (2010)

Jacksonville

Paxon

Tyshawn Patterson Orlando Christian Prep
Top five players playing in the underclass division were.
Brandon Boyd Jacksonville ACD 2010
Delron Sumney Wekiva 2011
Pierre Bland Jacksonville Robert E. Lee 2010
Terrell Merritt Montverde 2011
5. Daqwan Knight Jacksonville Raines 2010

To Top

Email

Printer Friendly

Save to My FloridaProspects.com