St Pete High Advances To State
Feb 23, 2015
By: Todd Jenkins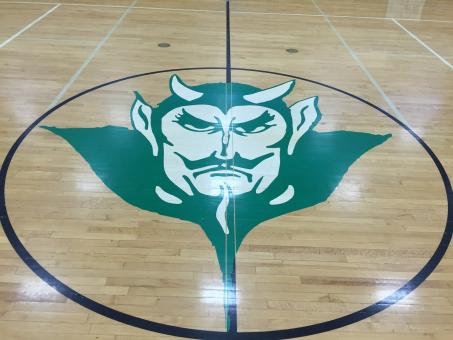 St Pete High Green Devils advances to the state tournament by defeating Orlando Oak Ridge in front of a sold out crowd with a score of 82-75.
St Pete was led by their outstanding guard Travis Bianco who finished with 29 points with 14 of them scored in the first quarter. Joining Bianco in leading the team was the sensational sophomore Darius Banks who finished with 23 points. Provonsha Wells chipped in 20 points, 15 of those in the second half.
The Green Devils came in with a great defensive game plan that was geared on stopping McDonalds All American guard Antonio Blakeney
They ran two guys at him every time he touched the ball, they packed the middle and dared the rest of the team to shoot from deep. The game play was easier to run because of the injury to Oak Ridge's star center Alex Owens. Alex didn't play and has been out the past few games due to a knee injury. Alex's absence left the middle open for the Green Devils on the offensive end, as it allowed them to penetrate with out the worry of a shot blocker.
Blakeney and the Pioneers did not go down with out a fight, as they were only down 40-34 at the half. Blakeney tried to lead his team back by scoring a team high 29 points.
St Pete will face Oviedo Hagerty in the State Semifinal at The Lakeland Center Thursday 7pm.

To Top

Email

Printer Friendly

Save to My FloridaProspects.com